Dual Gigabit Ethernet Mini PCIe expansion module released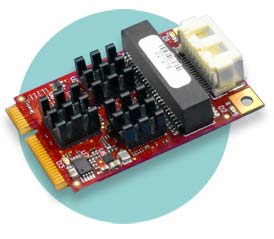 VersaLogic Corporation extends its line of industrial temperature, rugged Mini PCIe expansion products with the "E5". This new Dual Gigabit Ethernet expansion board provides an easy and economical way to add additional Ethernet ports to high-stress embedded computer systems.
As with all VersaLogic products, the E5 Dual Gigabit Ethernet expansion board is designed for high reliability and long-term availability. VersaLogic's proven design expertise makes the E5 a rock solid solution for both standard and environmentally challenged applications.
Contact Information