Introducing the EPS-24G2X 26-Port Gigabit Ethernet Switch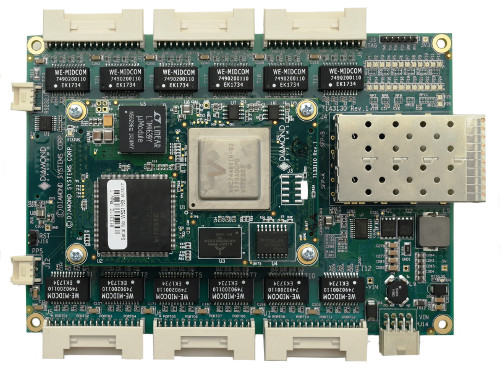 EPS-24G2X Press Release
Managed 26-Port (24 10/100/1000Mbps copper ports + 2 10Gbps SFI ports) Gigabit Ethernet Switch in a 3.5-inch Form Factor
This complete off-the-shelf Ethernet Switch is designed as a carrier board combined with Diamond's EPSM-10GX switch module, providing a complete 26-port Gigabit Ethernet Switch solution with access to all features.  EPS-24G2X is ideal for harsh environments found in on-vehicle, military, and aerospace applications. EPS-24G2X is supplied with all required firmware preconfigured, enabling immediate operation without any development effort.
For more product information:  EPS-24G2X Ethernet Switch
Availability
Both the EPSM-10GX and the EPS-24G2X are currently shipping.  For more information, contact Diamond Systems Sales (sales@diamondsystems.com).
Media Information
Contact  Diamond Systems for more information about these solutions. For media inquiries, please contact Mark Wilson or call 650-810-2500. If you will be attending the Embedded World tradeshow, and would like to set up a meeting, please contact us.